Current and Past Exhibits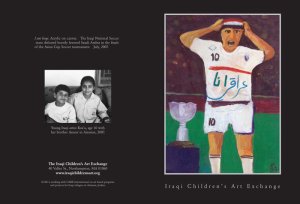 February 16 -March 1, 2008
Art from the Heart
Moorhead City, North Carolina

A collection of ten pieces of Iraqi children's art from the CARE art workshop in Amman Jordan will be included in the Arts Council of Carteret County's annual art exhibition and fundraier, Art from the Heart. Betty Skulstad, a Children's Advocate from Beaufort, North Carolina worked with Unitarian, Unity and Friends Peace Groups to make this happen.

According to the Council's press release, the event - a showcase for the talents of local artists - was the Arts Council's most popular and heavily attended event in 2007. One hundred and fifteen artists participated and nearly three hundred pieces of original artwork were entered. During the two week exhibition, an estimated nineteen hundred visitors passed through the gallery.

I Am Iraqi, the acryllic on canvas painting depicting a victorious Iraqi soccer player on the team that defeated heavily favored Saudi Arabian to win the Asia Cup finals in 2007, is one of the pieces included in the exhibit. The young artist is Abeer, a 10 year old Iraqi girl living with her family in Amman.



---
October 26 - Nov 18, 2007
Dear Iraq, I Hope You're OK
41 Main Street
Chatham, NY 12037
Contact Susan Davies: 518-392-9477.
---
Pieces of Peace
(North Adams, MA) Pieces of Peace, an exhibition of three murals created by Iraqi refugee children in Amman, Jordan, opened Monday, July 16th, 2007 at MassMOCA Kidspace. The large, brightly-colored murals, which will remain on display in the hallway outside the gallery through December 2007, raise questions about the development of child refugees as they adjust to their new environment. This exhibition is made possible through collaboration with the Iraqi Children's Art Exchange, a project started by Claudia Lefko, a preschool teacher and activist, and Kathleen Winkworth of Northampton, Massachusetts.
---
---
November 1 - 31, 2006
Hello Iraq, How Are You?
Art from children in Iraq and in the United States created especially for this cultural exchange project, and documenting photographs by Claudia Lefko.
New Gallery, Cooley Dickinson Hospital
30 Locust St., Northampton MA
January 3 - 31, 2007
Hello Iraq, How Are You?
Greenfields Market, Greenfield, MA
April 14 - April 14, 2006
Holyoke Children's Museum. An exhibit of photos and children's art was part of a month-long focus on Iraq. In collaboration with Books Building Bridges.

---

March, 2006
West Springfield Public Library. Drawn Together: An exhibit of art exchanged between children in the USA and Iraq, and photographs by Claudia Lefko.

---

November, 2005
W.E.B. duBois Library, University of Massachusetts, Amherst, MA. Thrown Together: Soldiers and Civilians in the War Zone. The exhibit combined the Iraqi Children's Art Project with 100 Faces, an exhibit by artist Matt Mitchell of painted portraits and written statements of Americans who have been witness to and part of the theater of war in Afghanistan and Iraq.

---

September 17, 2005
Artists for Justice - Peace Be Upon the World
First Churches, Northampton, MA

---

September 1-30, 2005
Fletcher Free Library, Pickering Room
Burlington, VT

Press coverage in Vermont Guardian

---

June 13-19, 2005
Pathways to Resilience: An International Conference
Halifax, Nova Scotia

---

May 14, 2005
Grace Church, Amherst MA
A dramatic reading by community members of the newly released book Behind the Lines by Andrew Carroll, followed by a discussion led by the author.

---

April 14-17, 2005
Global Women's History Project
Women of Iraq and Iran: Visionaries for Peace in the Twenty-first Century
Westfield State College, Westfield, MA

---

March 21-April 21, 2005
Westfield State College, Westfield, MA

---

February 1-28, 2005
Forbes Library, Northampton, MA