It's Not Easy Being Green/My Place
A Mural Exchange between Tampa, Florida and Amman, Jordan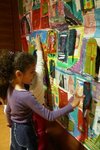 It's Not Easy Being Green is an exhibit of cloth dolls created under the direction of artist Paula Allen Director of the TECO Children's Gallery of Art at The Children's board of Hillsborough County.  The exhibit reminds us that we are all "green" -- different and unique -- in some way. Their work celebrates diversity, acknowledges the challenges and reminds viewers of the importance of being open, accepting and loving towards all those who share this planet with us. It ties together the need to love and understand ourselves and others with the pressing need to value and respect Mother Earth.
The Florida mural was sent to the Children's Museum of Jordan, where artist and Art Studio Workshop Programmer Zeina Saket worked with children/youth visitors to create a response mural: My Place. The large multi-media piece is an interactive city-scape of doors and windows with people and faces behind.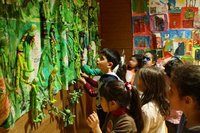 The Jordan Children's Museum exhibit opened on January 20, 2009 under the patronage of Princess Rajwa Ali, an artist and advocate for children's education. More than 500 individuals, families, children, artists, art organizations and institutes and ambassadors were invited. The mural exchange was the centerpiece of the exhibit.
Both murals were sent to Florida, where they went on exhibit in celebration and recognition of this goodwill gesture and the children and institutions who have contributed to this wonderful exchange project. Over 40 children from the Police Athletic League of Tampa attended the opening reception hosted by The Kidz Create Gallery of the Children's Board of Hillsborough County on Wednesday, August 12, 2009.